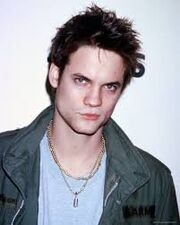 Shane West (born Shannon Bruce Snaith June 10, 1978) is an American actor, punk rock musician and songwriter. West is best known for portraying Eli Sammler in Once and Again, Landon Carter in A Walk To Remember, Darby Crash in What We Do Is Secret, and Dr. Ray Burnett in ER. He is currently portraying the role of Michael in The CW, action drama television series Nikita. Aside from acting, West has performed with punk rock band The Germs
Early life
Edit
Shane West was born in Baton Rouge, Louisiana, the son of Leah Catherine (née Launey) and Don Snaith. His mother is a lawyer; his father, who was born in Jamaica is a drugstore owner. Both parents were musicians and had their own punk bands. He is of Cajun Fench descent through his mother. He has a younger sister Simone and a much younger half-sister Marli Ann. His parents divorced in 1982 when he was 4. Influenced by his parents, he grew up listening to The Clash, The Jam Blondie, Elvis Costello, and The Kinks. He revealed: "I always thought I would be doing music rather than acting."
At the age of 10, West moved to Compton,California with Simone and his mother because she was looking for a better job and they then moved to Norwalk, California. When he was 15-16, West moved to Los Angeles to pursue an acting career where he struggled for two years and lived at his manager's house. West made his acting debut in 1995 with television series, Picket Fences.
As an Actor
In 1998, West guest-starred in several series including Buffy the Vampire Slayer, and played Mark Tapper in the stage production of The Cider House Rules before landing his first major role in 1999 in the television series, Once And Again, playing Eli Sammler for three seasons. West's film debut was in Liberty Heights, a film about a Jewish family in Baltymore directed by Barry Levinson's film . He also co-starred in the teen comedies Whatever It Takes (2000) and Get Over It (2001).
West was subsequently cast as Landon Carter opposite singer/actress Mandy Moore in 2002's adaptation of Nicholas Sparks' novel A Walk To Remember, which was a modest box office success, grossing over $41 million in the United States. Roger Ebert of the Chicago Sun-Times found him "quietly convincing." His performance in the film earned him a Tenn Choice Award for Choice Chemistry with Moore. He also appeared in the Mandy Moore music video "Cry." That year, West won the Young Hollywood Award Male Superstar of Tomorrow.
In 2003, West starred in The League of Extraordinary gentlemen alongside Sean Connery. The film was a commercial success, earning over $179 million worldwide from a production budget of $78 million. A year later, he joined the cast of NBC's long running medical television series, ER as resident Ray Burnett. West then left at the end of the 2007 season for Supreme Courtships, but the series was not picked up by the Fox Network. In 2008-2009, West returned to ER for three episodes during its 15th and final season.
During the hiatus between seasons of ER, West worked on shooting the independent film What We Do Is Secret, which premiered at the 2007 Los Angeles Film Festival after much delay. West helped to finance it. In the film, he portrays Darby Crash, a member of the 1970s punk band The Germs. Members of the band were impressed by West's performance and re-formed the band with West taking the deceased Crash's place. West received positive reviews for his portrayal; the San Francisco Chronicle stated that he is the one who "lifts the entire film to a whole other level". Similarly, the Seattle Times wrote that his impersonation was "worth saluting" while TV Guide called it "pretty impressive." In 2008, he received the Rising Star Award in Philadelphia Film Festival for his work in What We Do is Secret. West currently stars in the CW series Nikita
In Music
He was the lead singer of the  band Jonny Was for "seven or eight years," which was previously known as Average Joe. The band had to change their name for legal matters. The band contributed to the A Walk to Remember soundtrack but appears under the names of "West, Gould, and Fitzgerald" because they had not decided yet the new name. He described their style as "a pop-punk type band, more Greenday-ish."
In November 2005, while What We Do Is Secret was still in production, it was announced that West would be fronting The Germs on tour. He performed with the band for nearly five years, doing an American tour (including the 2006 Warped Tour) and a European Tour. He described the experience as "more exciting" than acting. However, after booking a leading role in Nikita, West got less time to play with the band. His last performance was in December 2009.
Ad blocker interference detected!
Wikia is a free-to-use site that makes money from advertising. We have a modified experience for viewers using ad blockers

Wikia is not accessible if you've made further modifications. Remove the custom ad blocker rule(s) and the page will load as expected.