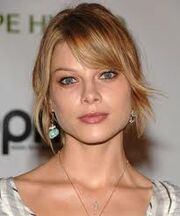 Lauren Christine German (born November 29, 1978) is an American actress, known for her role as the Hitchhiker in the 2003 remake of The Texas Chainsaw Massacre, as well as for starring in the 2007 film Hostel: Part II, in which she plays one of the lead characters. She is also known for her role in A Walk to Remember, in which she plays a popular and jealous ex-girlfriend named Belinda.
Biography
Edit
German's first work was on stage in Peter Pan's and Oliver and in 2000 she made her film début in Down to You where she has a small part as a lovestruck woman. Starring in several TV shows, such as Undressed (1999), 7th Heaven (2001) and Going to California (2002), she became more involved in films. German starred in the pilots Shotgun Love Dolls (2001) and Sex, Love & Secrets (2005)
The second movie German starred in was A Walk to Remember (2002), as the ex-girlfriend of one of the main characters. Later came Dead Above Ground (2002), A Midsummer Night's Rave (2002) and The Lone Ranger (2003), in which she had both smaller and bigger parts. In 2003 she tried for the main part in The Texas Chainsaw Massacre but it went to Jessica Biel and German got the part of the Teenage Girl/The Hitchhiker.
German got bigger parts in movies such as Piggy Banks (2004), Simple Lies (2005), Standing Still (2005), Surrender Dorothy (2006), It Is Fine. Everything Is Fine! (2007) and What We Do Is Secret, the latter as original Germs drummer and subsequent Go-Gos singer Belinda Carlisle. Recently, she has been best known for starring in the Quentin Tarantino–produced horror film Hostel: Part II. She starred in the French apocalypse thriller The Divide. German starred in Hawaii Five-0 as Agent Lori Weston. She stars in the 2012 NBC series Chicago Fire as paramedic Leslie Shay.
In 2001, German was selected as the world's 47th sexiest woman in Maxim.