Every year the Baptists church downtown- Southern put on their Christmas Pegeant at the Beaufort Playhouse. In 1958, a play named Christmas Angel was performed by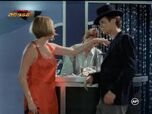 the senior students local high school.
Characters
Edit
There are 5 characters in this play. They are -
The Angel
Tom Thornton
Tom's daughter
Tom's dead wife
A homeless person ( homeless persons were called bums at that time)
A lonely old woman
Portrayals
Edit
The Christmas Angel,
penned by the minister of Southern Baptist, Hegbert Sullivan, is a largely autobiographical story that parallels the life of the minister: A man's wife dies during childbirth, and he has to raise his daughter on his own, in spite of overwhelming grief. In the play, the father, Tom Thornton, searches desperately to buy a particular music box for his daughter, whom he has kept at
arm's length because of his grief. While on an unsuccessful shopping trip to locate the music box, Tom meets a beautiful angel, who encourages him to be a better father; the music box then miraculously appears under the tree on Christmas morning.
Ad blocker interference detected!
Wikia is a free-to-use site that makes money from advertising. We have a modified experience for viewers using ad blockers

Wikia is not accessible if you've made further modifications. Remove the custom ad blocker rule(s) and the page will load as expected.